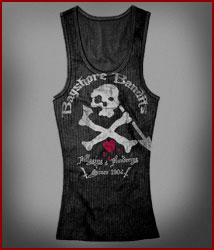 - click images to enlarge -
2012 Bayshore Bandits - $19 ON SALE

Women's Ribbed Black Tank Top
100% super soft, pre-washed cotton. Ribbed, stretchy tank. Design based upon Blackbeard's famous Jolly Roger flag, this tank top will bring out the pillaging and plundering in every sexy pirate girl. On sale, so get yours while they last!